SHE WHO TELLS A STORY:
An Evening of Performance Inspired by the
Rawiya Collective
SATURDAY, MAY 18
7:30pm
Open Source Gallery
306 17th Street
Brooklyn, NY 11215
FOLLOWED BY A TALK-BACK WITH THE ARTISTS
Free with a suggested donation of $10
Rawiya Collective – the first Middle Eastern female photography collective – presents In Her Absence I Created Her Image, an exhibit for Open Source Gallery. In collaboration with Open Source Gallery, and inspired by Rawiya, THE CREATORS COLLECTIVE presents a series of performances from dance and theater artists at the gallery.
The works performed are either inspired by the photographs in the exhibit, the meaning of Rawiya which is "she who tells a story" or the Rawiya Collective's goal of dispelling stereotypes to encourage a more compassionate and empathetic worldview.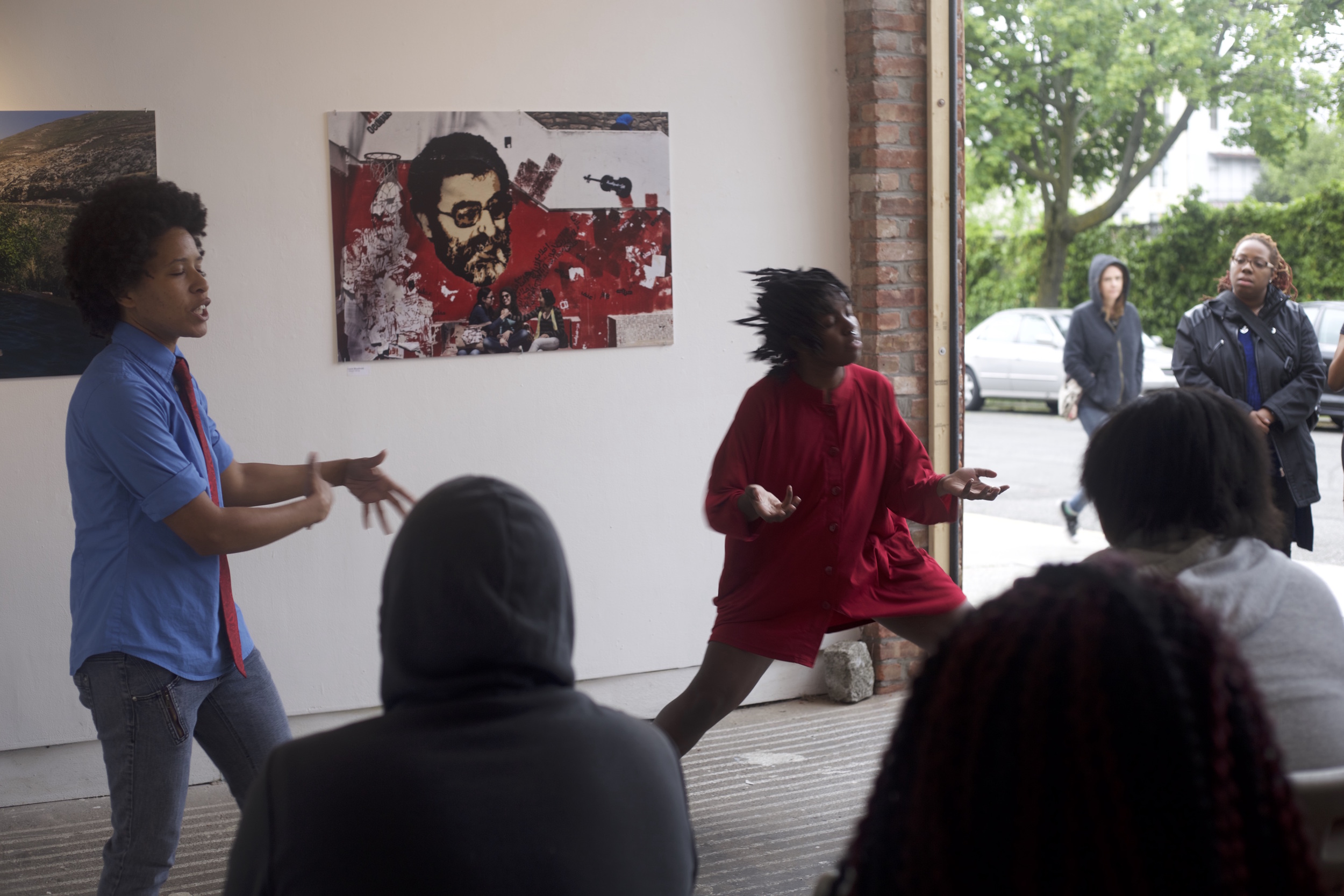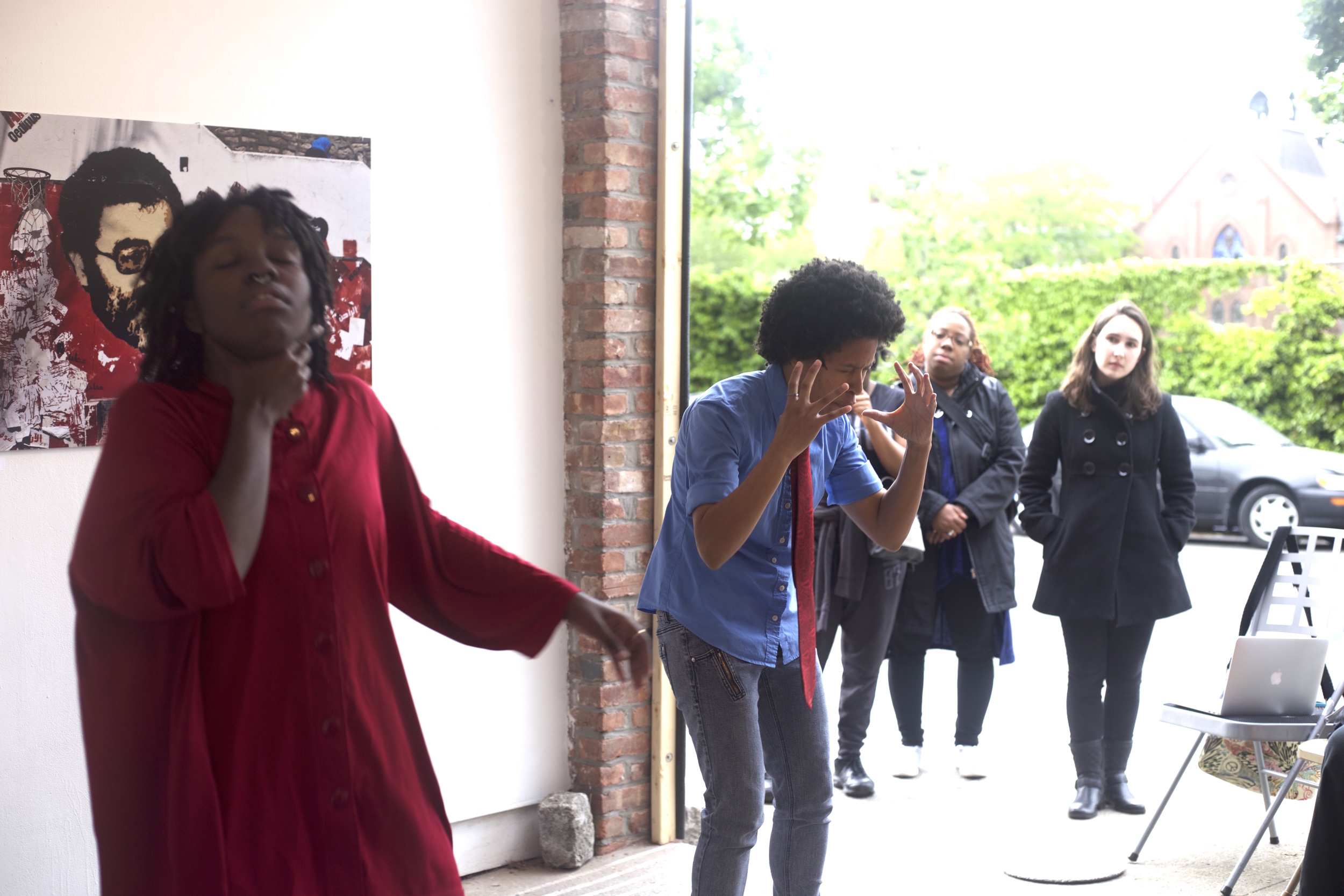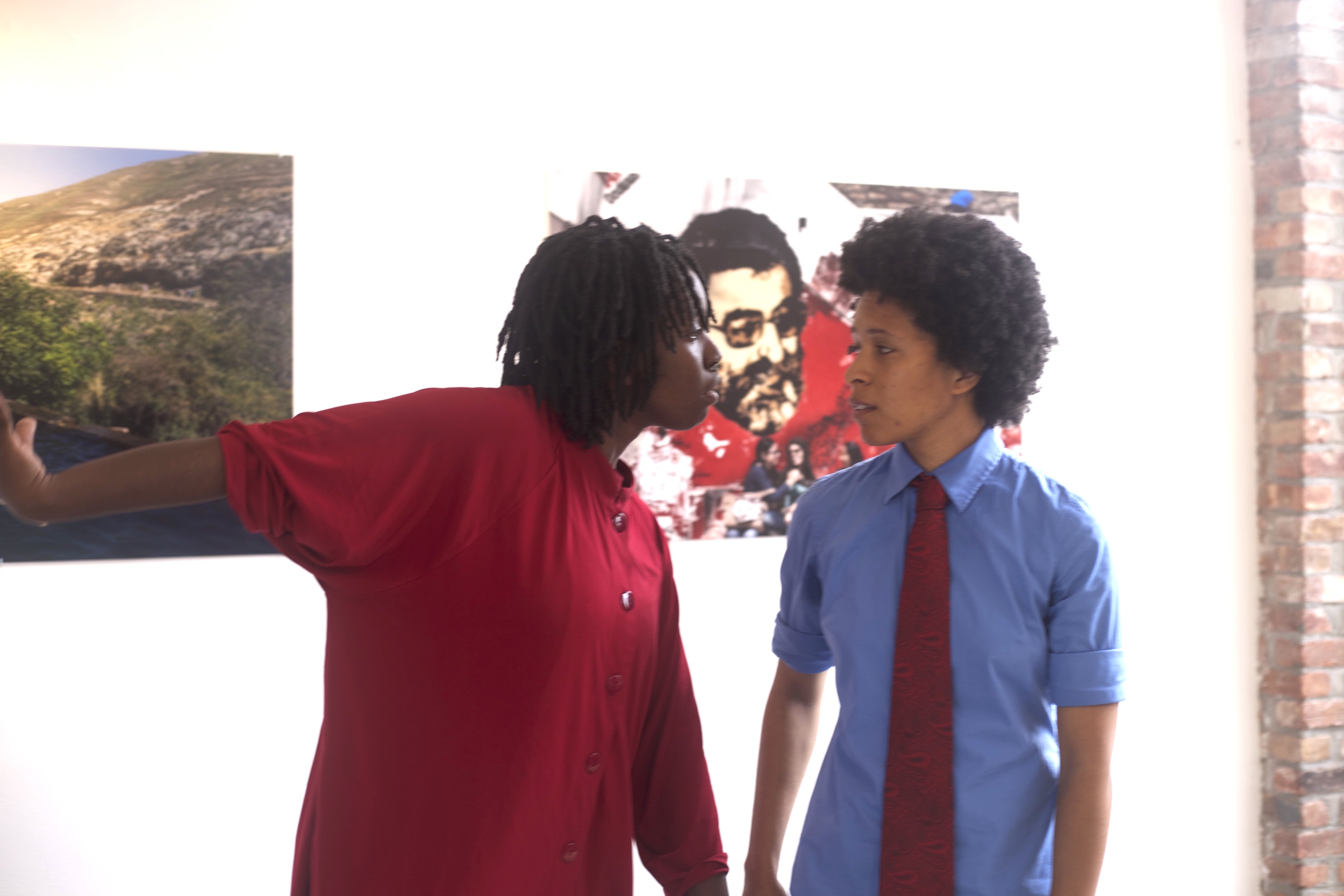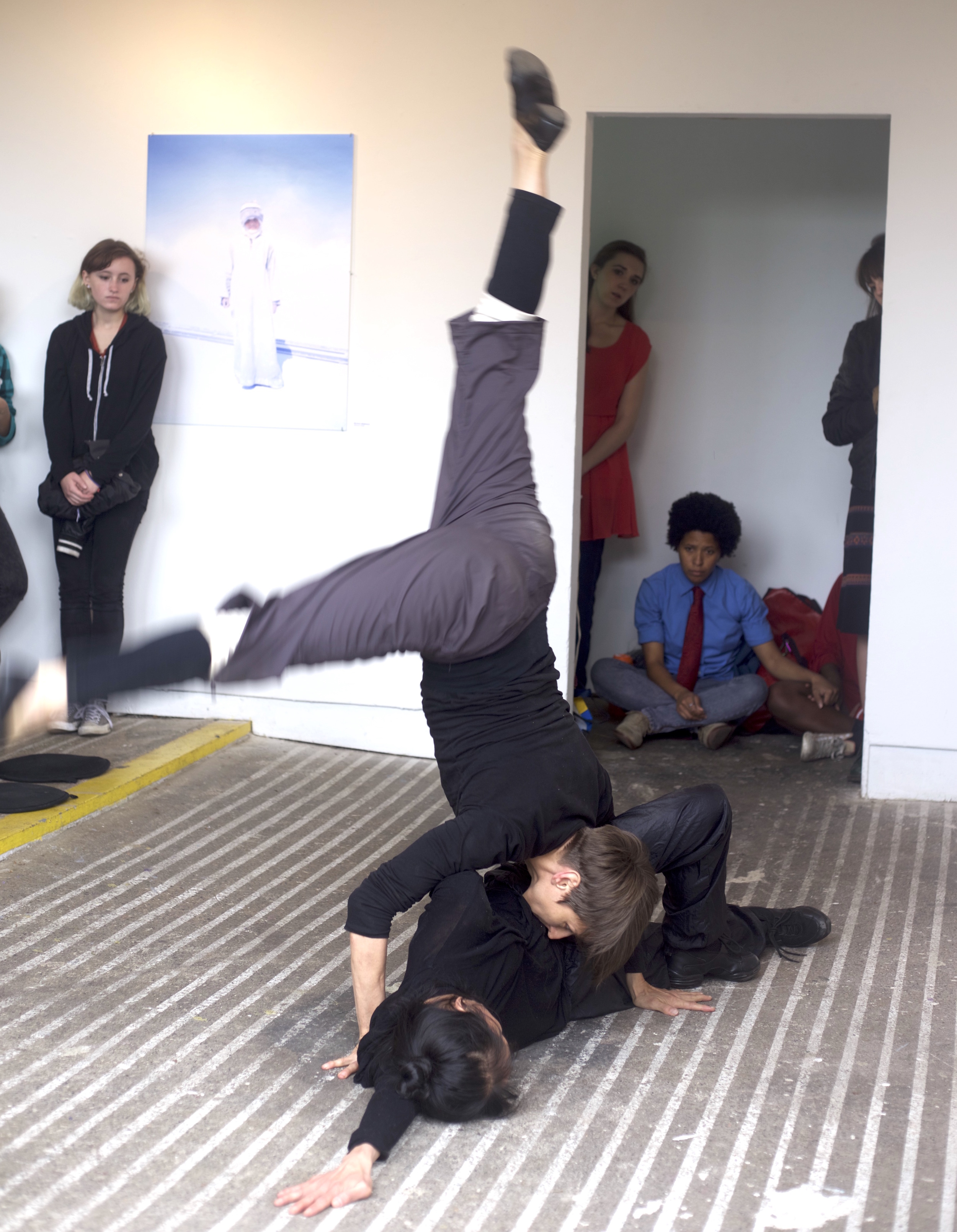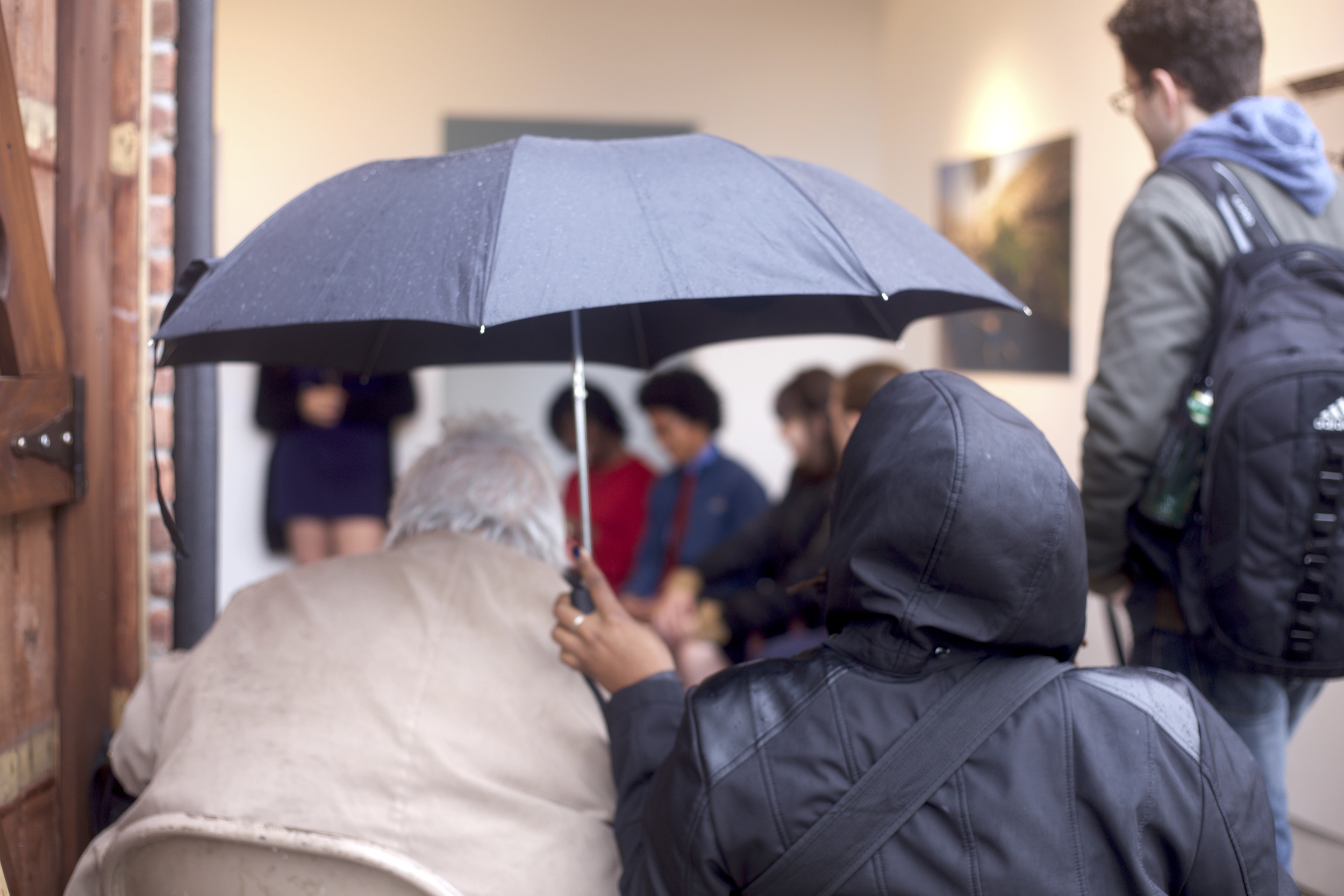 FEATURING:
FUNMILAYO MARTINS / Spoken Word
NASRENE HAJ / Dance
NIA AND NESS / Dance + Poetry
REBEKKA NODHURFT / Dance
SAMSAM YUNG / Dance
SARAH TRAISMAN / Theater
SUKU DANCE LAB / Dance
FUNMILAYO MARTINS (Mimi) was born in Lagos, Nigeria and migrated to Houston, Texas at age 8. She has been writing since a young age, particularly focusing on poetry, short stories and essays. She is currently working toward her degree in English Literature and is deeply influenced by Maya Angelou and Chimamanda Adichie.
NASRENE HAJ is a project-based arts manager who holds a liberal arts degree from Sarah Lawrence College in Cultural Studies encompassing dance, writing and Italian studies. Her interdisciplinary education led her to found THE CREATORS COLLECTIVE in 2012, an arts organization that provides resources for collaboration and mentoring across age and discipline. She also works as the Development and Membership Coordinator for the BRIC Celebrate Brooklyn! Festival and holds the position as Chair of Teen Artists Learners and Leaders, the teen arts council at Brooklyn Arts Exchange. Nasrene's choreography has been performed at Triskelion Arts, Brooklyn Arts Exchange, Livestream Public, The Space at 145 Front Street, and in Harrisonburg, Virginia and her poetry has been published in the first edition of Kalyani Magazine. She welcomes the opportunity to connect and collaborate on new projects that empower both young and professional artists through the artistic process.
NIA SHAND and NESS WHITE are a dancer/poet performance art duo based in the NYC Metropolitan area. They met in Philadelphia three years ago while attending Temple University and immediately began a collaborative art process, as well an intimate relationship. Along with the couple's work together, Nia is a proud BFA dance graduate from Temple. Immediately after graduation she began dancing in Germany and France with DAGADA dance company as part of her developing dance career; and Ness, a Journalism graduate of SUNY Plattsburgh, freelances as a writer and editor for the Việt Tide as well as several other news outlets.
The couple's work is informed by the complexities of their relationship, and aims at a deeper understanding of their co-reality through intense investigation of their individual identities. They can be reached jointly at niaandness@gmail.com.
REBEKKA NODHURFT, originally from Orange County, NY, began her training at age 3 at Marya Kennett Dance Center. Rebekka earned her BA in International Relations from Boston University, where she graduated Magna cum Laude in 2008. While in college, she performed with and choreographed for Boston University's Dance Theater Group. After a short stint in political work in Washington, D.C., Rebekka moved to NYC and completed a year of full-time training with the Professional Division of The Ailey School. Rebekka has worked with Jazz Roots Dance, Keen Dance Theater, and Momentum Dance Theater. In 2012, she traveled to Guyana with Keen Dance Theater and performed a solo at the National Cultural Center in the capital city of Georgetown. She also performed regularly at the world-renowned Cotton Club in Harlem, where she tapped with Dormeshia Sumbry-Edwards and her line of 'Sophisticated Ladies.' Rebekka's company, Awaken Dance Theater, was conceived in March 2014 with the aim of making bold statements on social and political issues through dance including gun violence, climate change and sustainable development, corruption in government, feminism and women's rights, LGBTQ rights, the rights of the disabled, eating disorders and other psychological disorders. To learn more, please visit awakendancetheater.com
SAMSAM YUNG was born in Hong Kong and grew up in Japan. She attended Universite de Lumiere in Lyon, France. She holds a BA from Brown University and an MS from Carnegie Mellon. Her dance education has been self-tailored. She studied Simonson Technique at Dance New Amsterdam, aka, Dance Space and holds a teacher's certificate in Simonson Technique. Her personal practice and exploration is strongly influenced by somatic post-modern approaches with attention to weight and sensation. Since returning to training in 2012, Samsam has performed for Stephanie Landouer, DanceAction, Nimbus Dance Works, Pavel Zustiak, Jacklyn Buglisi, Pascal Lambert and Mariangela Lopez. She completed DNA's CIC program in 2013. Since then, she has presented her work in New York City and Philadelphia, at DNA, Brooklyn Music School, Aileys, the Graham studio, the Brick, DANY Studios,Gibney Agnes Varis Center, Dixon Pl and CHI Movement Center. Some of these works were made in collaboration with her dear friend and mentor Talli Jackson. She is currently also a member of Estado Flotante and NOT for reTAIL.
SARAH TRAISMAN is a New York based performer and writer. She graduated from Vassar College in May 2015 with a degree in Drama and Psychology and since then has been involved in a variety of projects. She recently performed at La MaMa, was seen in a new work with an ensemble of Vassar alums at Dixon Place Theater, and will be a part of the cast of "Ribs" at the Paradise Theater Factory in June. Her work "Weighted" is a work in progress and Sarah is excited to share this ever-evolving piece with a new audience.www.sarahtraisman.com
SUKU DANCE LAB is a Brooklyn based dance-theater company founded in October of 2015 by Talia Moreta and Belinda Adam. Their works have been presented with The Creators Collective's event at Pop up Performance, Dixon Place, WMAAC Moving Beauty Series, Pushing Progress Showcase and with Chapman University. Suku Dance Lab aims to create accessible and relatable performances rooted in dance and theater. Exploring themes surrounding culture, humor, and storytelling, Suku Dance Lab incorporates various dance influences, elements of voice, and live music into their works. sukudancelab.com/
This evening of performances is part of the fifth phase of our Collective Storytelling Program: a series of performances based in storytelling and identity.