ev·o·lu·tion:
/,evəˈlo͞oSH(ə)n/

The gradual development of something, especially from a simple to a more complex form.
THE CREATORS COLLECTIVE and Pelorus Press have come together to host ev•o•lu•tion, an immersive gallery experience where three poets will collaborate with visual artists and photographers to create new work inspired by each other's art. First, visual artists will create work on the spot inspired by a poem followed by the poets revising their poems based on the visual art and photography inspired by their original poem.
saturday, APRIL 29TH
3:00PM
HALYARDS BAR
406 3rd Avenue, Brooklyn, NY 11215
TICKETS:
$8 in advance / $10 at the door
 
PHOTOS FROM ev·o·lu·tion!
April 29, 2017 | Photos by: Riah Effort
an afternoon collaboration, process, and performance!
FEATURING:
POETS
Doyali Islam
Sarah LeWarn
Alyea Pierce

VISUAL ARTISTS
Ilaria Bochicchio
Angelica DeRosa
Sarah Perea Kane
PHOTOGRAPHERS
Rachel Burkey
Jorge Granja
Ryan Serrano

EVERYDAY PHOTOGRAPHERS
Mimi Martin
Sophie Pauline
Zack Witzel
* Everyday photographers were chosen through Instagram and Facebook by Pelorus Press and
THE CREATORS COLLECTIVE to take photos based on a poem using a disposable camera.
(Artist bios below!)
POETS & REVISION
learn about the ev·o·lu·tion poets' preferences and thoughts on the revision process.
~ ALYEA PIERCE, DOYALI ISLAM & SARAH LEWARN ~
ALYEA PIERCE
Revision is part of the writing process. We revise our work after we have selected an idea to write about, completed necessary research, organized the information, decided on what to write about, and then written a first draft. The purpose of the first draft is not to write something complete or perfect–but to release your soul on paper. To allow yourself to be open. Revision can transform an ordinary piece of poetry, into something that can make your audience taste, smell, see, cry, and most of all, feel.
Art is ever evolving. It is a living and breathing entity. The goal of revision is not to make your writing perfect, because you can always revise your work. The goal is to create something that allows you to share all of yourself and give your best work.
I believe that revision is one of the most creative aspects of the writing process, providing you take a break after writing the first draft. The first draft is merely just a blueprint.
DOYALI ISLAM
I revise by ear. As far back as I remember, I have always done so. Perhaps this is why public readings are one of my favourite aspects of the work: although I am a page-poet, my poems are meant to be voiced, intoned – almost sung.
I would qualify my process as being half intuition, half rational discernment. For me, a poem requires both internal logic and a certain amount of apparent logic.
Most often, a fragment of verse – rather than an image – will come to mind as if from nowhere, and I will jot it down using whatever holding-surface I have: journal, used envelope, post-it note, cell phone. Sometimes, this fragment survives 'as is' in the final poem. Other times, a version of it will remain. In some instances, it dissolves entirely: that's okay, too. It was the initial impetus required to make me start the work.
More and more, I am convinced that structure is crucial to a poem's success or failure. By 'structure', I mean the general visual form a poem takes, its sonic qualities, and its mode(s) of operation: what holds a poem together, and what propels it to its end? Where are the hinges? I am always looking for tension and paradox, ambiguity and clarity.
Revision is a solitary but not lonely process. With every draft, something is pared down. My language becomes more simple – which does not equal 'simplistic'. Distilled but also slippery.
My early mentor, poet Sylvia Legris, told me to "be ruthless" in my revisioning. I am.
SARAH LEWARN
I'm a writer who tends to let imagery and simile get the better of me. I waver between prose and poetry, usually feeling out the proper line breaks after several rounds of trial and error. I've always gained great insight from fellow writers that I respect and have been kind enough to edit my work. Sifting the emotional hyperbole and cliches from my drafts is essential to get the right language out of the stream of consciousmess tumblr style that I sometimes fear creeps into the first few iterations. At the end of the day, I find the resting place for the poem by reading aloud; if a word or sentence continues to trip me up, then I try to let it go.
ALYEA PIERCE is an author, international poet, playwright, and public speaking coach who is a "real nice cook up" of the West Indies. Aspiring to provide a voice for the voiceless, Alyea centers her creative projects around the exploration of Latino & Hispanic, Caribbean histories, the celebration of all things woman, and the untold narratives of marginalized persons.

Pierce's artistry has been featured on the grand stages of the Apollo Theatre and Broadway's New Amsterdam Theatre, as well as universities across the States. She has recited her original works at countless TEDx events, including TEDxOxford in the United Kingdom. Pierce was the 2016 Playwright-in-Residence for the Award-Winning North Bergen, New Jersey Theater Company, Strength Out of Shadows (SOS), in which she wrote and performed in her spirited play, Financial Slavery: The College Debt Sentence. Financial Slavery had its World Premiere at The New York International Fringe Festival in August of 2016.

A graduate of Rutgers University, Alyea received her B.A in Communications and English in 2014, and returned to her alma mater to receive her Masters of Education.
ANGELICA DE ROSA was born in Milan, Italy, 12 May 1990 and currently resides and works in Milan. In 2013, Angelica received her Bachelor's Degree in Painting from the Academy of Fine Arts of Brera, Milan and went on to receive her Masters Degree in Painting from her alma mater in 2015. Her thesis, titled "Il corpo come apertura: l'esperienza dell'esserci" (The body as an opening: the experience of "being there"), has been published by Edizioni Accademiche Italiane and is available online in Amazon.it. Angelica also took part in a six month exchange program through Erasmus College from 2013-2014, attending the Ecole Nationale Supérieure des Beaux-Arts de Lyon, France.
ASHNI is a singer, songwriter, pianist, dancer, poetry-lover, expert hugger and crier. The Mask EP is her first embrace and exploration of her sound. What started as a simple vocal and piano demo became an anchor in her transition to a musical path.
Her relationship with the stage began at age 7, with classical North Indian dance, Kathak, and western classical piano. Later, Ashni started to fall in love with the voices of jazz and soul - Ella Fitzgerald, Ray Charles, Billie Holiday - in contrast and equal reverence to the new artists of R&B, hip hop and neo-soul. Today, she is studying under talented jazz musicians, developing her craft, and learning wholeheartedly.
Ashni's music is heavy with soulful melodies and layered vocals. On Mask, she explores elements in both folk acoustic and electronic production found in alternative pop/R&B and trip hop. The EP features cello and tabla, as well as electronic percussion and textures. ashnimusic.com
DOYALI ISLAM's poetry has been published in Kenyon Review Online and Canadian journal The Fiddlehead. She is the winner of Arc Poetry Magazine's 2016 Poem of the Year Contest and Contemporary Verse 2's 2015 Young Buck Poetry Prize for writers under 35. This past March, Islam's small poem, "cat and door", won League of Canadian Poets' inaugural National Broadsheet Contest. Ailurophile and minimalist, she lives in Toronto. If she hasn't already, she will soon sit down with Michael Enright of CBC's The Sunday Edition to read her poetry and discuss her work. The Pelorus-Press poem "moving day" comes from her full-length poetry manuscript, heft and sing. Connect with the poet through her website (www.doyalifarahislam.com), Facebook page (Doyali Islam), or on Twitter (@doyali_is).
FUNMILAYO MARTINS (Mimi) was born in Lagos, Nigeria and migrated to Houston, Texas at age 8. She has been writing since a young age, particularly focusing on poetry, short stories and essays. She is currently working toward her degree in English Literature and is deeply influenced by Maya Angelou and Chimamanda Adichie.
ILARIA BOCHICCHIO, is a visual artist and performer and a graduate of the European Institute of Design. She's worked as a writer for Hestetika Magazine and Aware Magazine. Ilaria has had exhibitions in Milan, Miami, and New York. Her work has been included in a number of recent exhibits, including Form and No.Form at TriBeCa's Salomon Arts Gallery in New York in October 2016 together with the celebrated 1934-born pioneer of Abstract Expressionism, Natvar Bhavsar. In 2017, Ilaria was selected as part of the Young Artists Biennale Mediterranea in Milan, Italy. Ilariabochicchio.com
JORGE GRANJA
Working under the name "Still Memetics," (A captured moment of our present culture, ideas, or way of thinking) Jorge has been working on seizing the beauty of everyday scenes. His focus on candid and natural imagery helps to bring forth the idea that some of life's most iconic moments are in the frames we forget or miss entirely.
RACHEL BURKEY is an artist from a small town in Pennsylvania. She graduated from Temple University in Philadelphia where she studied Advertising – Art Direction. She is inspired by the outdoors, music and traveling.
RYAN SERRANO
A Brooklyn native, Ryan Serrano has been focusing on his imagery for the past five years. He has captured surrealistic portraits, sweeping landscapes of the Western United States, and New York City scenes ranging from the underground to atop skyscrapers. Ryan believes in creating images aesthetically pleasing images evoke emotion, influence the senses, and tell a story.
SARAH LEWARN is a native of New York and a graduate of Sarah Lawrence College. She lives in Brooklyn and is currently pursuing an MA in Psychology at The New School for Social Research. Her work has appeared in Word Riot and Winter Tangerine Review. A majority of her writing is devoted to the artistic nature of cigarette smoke and analyzing her queer, suburban, catholic identity. This identity is still a work in progress.
SARAH PAREA KANE is a painter living and working in Brooklyn, New York. She received my BFA at the Rhode Island School of Design. Sarah makes work from the places she lives, where she spends the most time, what she sees around her every day – accumulations of observation, memory, and fiction. Sarah likes experimenting with various mediums, drawing with paint and painting with collage. In this way, she hopes to share her small corner of the world with you.
SOPHIE PAULINE graduated from Marywood University in 2016, earning a degree in Advertising and Public Relations. During her time at university she was heavily involved in all parts of the theatre department, while additionally writing for the arts and entertainment section of the campus newspaper. She currently works as a Sales Coordinator for DISH Media Sales and previously worked for the arts nonprofit, Young Audiences Arts for Learning, in both the Marketing and Development departments. Sophie is eager to continue administering to the arts in whatever community she find herself in.
ZACK WITZEL doesn't consider himself a photographer (mostly because he isn't one), but he pretends. And maybe that's enough.
JOIN US | SATURDAY, APRIL 29 | 3:00PM
THE CREATORS COLLECTIVE and Pelorus Press first produced ev•o•lu•tion in October 2015.
SATURDAY, OCTOBER 17, 2015

WILLIAMSBURG, BROOKLYN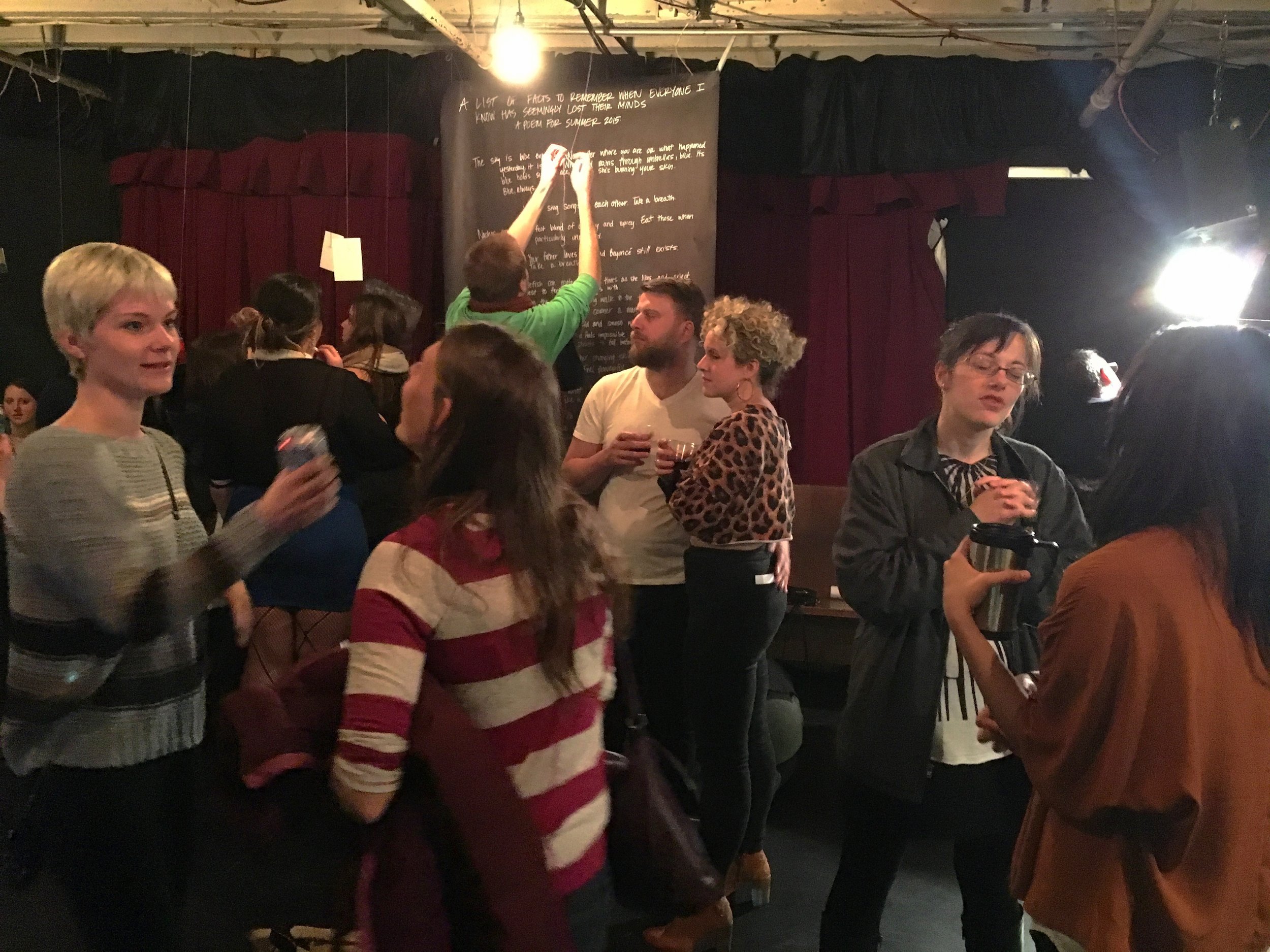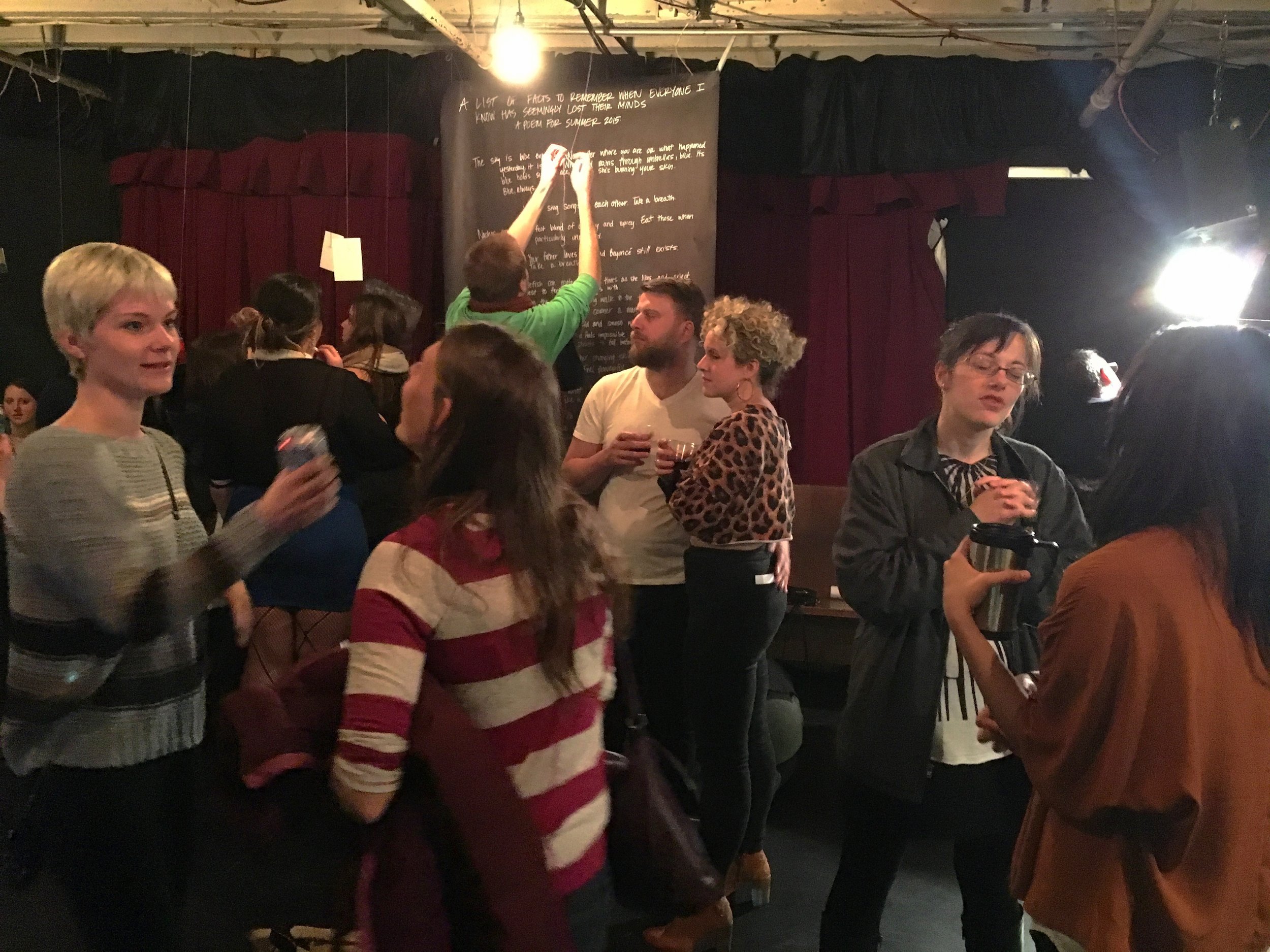 FROM ONE OF THE 2015 EV·O·LU·TION POETS:
 
"The process of (re)creation became immediate, tangible, projected large into a space transformed from simple blackbox to bookbox, with words and images surrounding all who entered. It was the closest most of us will come to jumping into the pages of a book, a surreal experience that led to some very real results. As a poet, I was taken by the images created in response the word pictures I had painted. What was born of the exchange was a surprise to everyone, but a very welcome one. I left with two types of gratification: that which comes from knowing you have helped others create, and that which comes from having others help you down your path."
FEATURING:
POETS
Lia Burke
Sarah Duncan
Brendan Gillett
Abby Hellauer

VISUAL ARTISTS
Tony Cimino
Ailen Pedrazi
Kelli Ryan
PHOTOGRAPHERS
Rachel Burkey
Jordanna Kalman
Emma Strugatz

EVERYDAY PHOTOGRAPHERS
Thea Lewis
Rachel Martin
Summer Perlow
Stephen Sheffer
The performance was accompanied by musical sets from Ashni and Ben Miriello and an opportunity for the audience to join in as creators!
Lia Burke, Poet
Lia Burke began writing poetry in middle school, and to this day it is an essential part of her life. She graduated from Sarah Lawrence College in 2012, where she studied poetry with Marie Howe, Suzanne Gardinier, and Rachel Eliza Griffiths. Her poetry has appeared in Pelorus Press, the Sarah Lawrence College Literary Review, and in several online publications. Lia is currently a Masters of Social Work candidate at Silberman School of Social Work at Hunter College, and is a social work intern on the inpatient pediatric unit of a New York hospital. Currently, Lia is interested in utilizing her poetry to synthesize the seemingly disparate aspects of day-to-day experience.
RACHEL BURKEY, PHOTOGRAPHER
Rachel Burkey is an artist from a small town in Pennsylvania. She graduated from Temple University in Philadelphia where she studied Advertising – Art Direction. She is inspired by the outdoors, music and traveling.
Tony Cimino, Visual Artist
Tony was born in Brooklyn into a family of musicians and artists. He attended a Music and Art High School where I focused on drawing, flute and piano and went on to study flute under a full scholarship with Sandra Miller at Hunter College. He continued at Hunter College studying with Linda Chesis and received his M.A. I graduated summa cum laude and was awarded the Dr. Beno Lee Graduate Scholarship for Musical Excellence. Tony later pursued a Doctorate in Flute Performance at the University of Washington studying with the late Felix Skowronek and graduated summa cum laude.
As a flutist, Tony has performed as a soloist with The Friends of Music, Guillford, Vt., the Hunter and Suny Purchase Symphony's and the Greenwich Village Orchestra. He has also performed with The New York Symphonic Arts Ensemble, Sonos Chamber Players, The Tattinger Wind Ensemble, The Queen of Hearts Trio and was a founding member of The Fandango Al Tango Society Orchestra in which he played solo piccolo. He has taught as a piano/flute instructor at the Brooklyn Conservatory of Music for over 18 years. Currently, Tony am collaborating with a wonderful pianist, Jinah Park and together formed the Park Cimino Duo in 2008.

Besides my unwavering devotion to my music, I am also an artist: print maker; poet and photographer. TonyLeonardoCimino.com
Ashni Dave, Singer/Songwriter
Ashni is a singer, songwriter and pianist. Her relationship with the stage began at an early age with classical Indian dance, Kathak; the sound and movement remain a deep love and inspiration. Ashni's music is filled with soulful melodies, heavy with R&B and jazz influence. She is currently studying under accomplished jazz musicians and developing her craft, performing regularly at venues around New York City, including Rockwood Music Hall and The Bowery Electric. You can hear Ashni's recent EP on Spotify or iTunes, and follow her work at ashnimusic.com.
Sarah Duncan, Poet
Sarah M. Duncan is a poet, playwright, and arts organizer. Her plays have been produced at various theaters, including W.O.W Cafe Theater, The Gym at Judson, and the Baruch Performing Arts Center. Her poetry has been published by Ghost House Review, nin Poetry Journal, Asinine Poetry, Leftovers Mag (upcoming) and Broadside Journal. Sarah organizes theatre and poetry events throughout the city themed on social justice issues. She has produced and performed at The Wild Project with Poetic Theater Company, La MaMa Experimental Theater Company, The Living Theater, The Cherry Lane Theatre, and Judson Arts: Bail Out Theater. sarahmduncan.com
abby hellauer, poet
Abby Hellauer is a graduate of Sarah Lawrence college at the hands of Marie Howe and Jeffrey McDaniel. She lives in Brooklyn with her boyfriend and their cat who will steal your heart. Most days, Abby wants to wear flower crowns, collect seashells, or drink something with rum in it—like most mermaids do. Things like that make it easier to be a lady in this jungle town.
KELLI RYAN, VISUAL ARTIST
Kelli Ryan was born and raised in Baltimore, Maryland. She graduated from the Baltimore School for the Arts in 2003, majoring in Visual Arts. After a year off from school Kelli attended the School of Visual Arts in New York. She majored in illustration for 2 years before transferring to the San Francisco Art Institute. Longing to have a more visceral, interactive experience with her audience, Kelli's studies at the San Francisco Art Institute assisted her in transitioning from painting and 2-D art to performance art and music. She is currently taking Jazz vocal classes at Hunter College in New York and has performed in various musical venues and gallery spaces in San Francisco, New York, Paris, and Berlin. Today, Kelli's studio practice blends together both painting and music in hopes to blur the lines between artist/performer and audience.
To find out more about Kelli Ryan please visit www.kelliryan.com
Ailen Pedrazi, Visual Artist
Ailen was born in a tropical island with a rich culture, lots of ethnic diversity and an interesting political climate. All great sources of inspiration for making art! She grew up appreciating art that was socially relevant and engaging to its constituencies. Academic and professional roads led her to the fields of graphic design, art history, mural painting, banking, web development and data management. Personal ones led her to a gospel choir, aerial yoga, freeform crocheting, meditation and salsa dancing. Ailen believe that appreciation comes from a place of understanding, so she is constantly looking to learn new things from other people and to share such knowledge.
SUMMER PERLOW, EVERYDAY PHOTOGRAPHER
Summer Perlow is a twenty one year old student at New York University majoring in Art History and German with a special interest in Contemporary Art. She moved to New York City this summer, driven by her love for the arts. From a young age, she has appreciated the cultural values of artistic expression and hopes to continue exploring this through her academic career and personal endeavors in New York City. Though she has no professional training, Summer has always been especially interested in expressing herself through photography and will continue to use it as a personal daily exercise of creativity.
Stephen Sheffer, Everyday Photographer
Stephen is an actor and writer. He lives in Brooklyn and hails from the Great White North. He loves adventure - next up is The Grand Canyon. Keep your eyes peeled for his television series Salmon Elbow, currently in development. stephensheffer.com | @dasenpearce (insta)
EMMA STRUGATZ, PHOTOGRAPHER
Emma Strugatz (born 1990), is from Brooklyn, NY. She received her BFA from Tisch School of the Arts in 2012. She currently teaches at Saint Ann's School in Brooklyn.
PARTICIPATE LEADING UP TO THE EVENT!
 
Check out the poem below by Abby Hellauer
Take a photo on instagram inspired by the poem, use the hashtag #EvolutionCollab and tag us: @peloruspress and @theartcreators
Abby will then write new short poems inspired by your photos, mirroring the type of collaborations you'll see at ev•o•lu•tion
The photos and poems will be displayed together at the event so make sure you come out on 10/17!